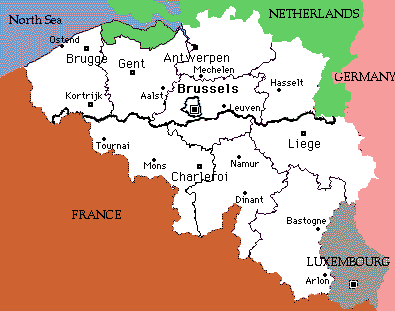 Clickable Map: Belgium with major cities; thick black lines denote the language border separating the 3 regions: Brussels in the center, Flanders in the Northern half, Wallonia in the Southern half; thin lines delimit provinces

Belgium is a small, highly developed and densely populated country (10 million of inhabitants) at the cross-roads of Western Europe. Belgium is one of the founding members of the European Community, and its capital, Brussels, is also the capital of the European Union. It is a federal state, with 3 relatively autonomous regions: Flanders in the north, where the language is Dutch ("Flemish"), Wallonia in the south, where the language is French, and the centrally located Brussels, which is officially bilingual. Belgium's rich history has left impressive churches, town halls, castles and works of art, dating back to the early Middle Ages, spread around the cities and country-side.

Belgium has possibly the highest "quality of life" in the world, as testified by its excellent food, housing, health care, education and infrastructure, its world records for high productivity and low poverty, and the appreciation of foreigners residing in Belgium. For a personal view on what distinguishes Belgium and the Belgian character (good living, pragmatism, food and drink, open-mindedness, compromise, privacy ...), check my "Essay on Belgian Culture".
General Country Information
Economy and Statistics
Belgium in Europe
Visiting Belgium
Coming to live in Belgium
Photo: part of the Brussels Grand' Place
Cities and Regions
(see also Belgian cities and regions in City.Net and Belgian Regional Information)
News and Information Services
Network Services
Other Belgium Overview Pages
Belgian Roots
Typically Belgian Things