About Valentin Turchin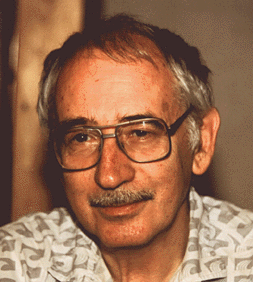 Valentin F. Turchin
Professor Emeritus of Computer Sciences,
the
City College,
the
City University of New York
Member of the Principia Cybernetica Editorial Board
Chief Scientist at
Supercompilers, LLC
Address:

188 Hiawatha Blvd, Oakland NJ, 07436, USA

Email:

turchin[ at ]verizon.net

Phone:

201-337-1761
Curriculum Vitae
1931 Born in Russia.
1952 Graduated from Moscow University in Theoretical Physics.
1953 - 1964 The Institute for Physics of Energy, Obninsk, Russia.
1957 Ph.D. in Physical and Mathematical Sciences.
1964 - 1974 Keldysh Institute for Applied Mathematics, Moscow.
1977 Emigrated to the USA.
1977 - 1979 Courant Institute for Mathematical Sciences, New York.
1979 - 1999 The City College of New York, Professor of Computer Science.
1998 Co-founded the software start-up SuperCompilers, LLC
09/01/1999 Retired from City College
Research Interests
Theoretical Physics, Applied Mathematics, Computer Languages and Systems, Cybernetic Philosophy, Automatic Program transformation.
Publications (Selection)
Books:
Selected recent papers:

"The concept of a supercompiler", ACM Transactions on Programming Languages and Systems, 8, pp.292-325, 1986
"A constructive interpretation of the full set theory", Journal of Symbolic Logic, 52, pp.172-201, 1987
"On Cybernetic Epistemology", Systems Research, Vol.10, No.1, pp. 3-28, 1993
"The cybernetic ontology of action", Kybernetes, 22, No.2, 1993, pp.10-30
"Program transformation with metasystem transitions", Journal of Functional Programming 3(3) pp.283-313, July 1993
"Supercompilation: Techniques and Results", in: Perspectives of System Informatics, pp. 229-248, LNCS, vol 1181, Springer, 1996.
"Metacomputation: Metasystem Transitions plus Supercompilation", in: Partial Evaluation, pp. 481-510, LNCS, vol. 1110, Springer, 1996.
---
Copyright© 2005 Principia Cybernetica - Referencing this page
Author
Date
Dec 1, 2005 (modified)
Aug 1993 (created)